6 Advantages of Our New Digital Wind Turbine Pitch Controller
Windurance
·
3 minute read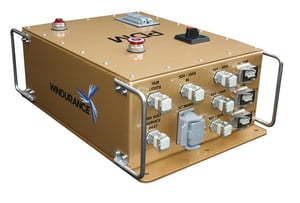 In just about any kind of electronics, the goal is to always get smaller with each new version of a product. Windurance's latest wind turbine pitch controller aimed to achieve just that in terms of physical size and power output.
That's no to say modern pitch actuators should cut down on features — on the contrary, our goal was to put large turbine technology in smaller turbines.
It used to be that the cost of complexity was high when putting a compact pitch system in a turbine. Cost, complexity, and reliability were all reasons why this wasn't done in the past for small turbines. But thanks to our hard work in cost reduction and efficiency improvements, we can now put a sophisticated system in a small turbine.
This is how the mini-PITCH was born.
Windurance's new product is a complete redesign of what's fundamentally the architecture. The differences are numerous. These upgrades place the mini-PITCH as the next-gen standard of blade pitch technology.
6 Advantages of the mini-PITCH Wind Turbine Pitch Controller
Here are five ways our new blade pitch technology cuts down on the inefficiencies you'll find with competing solutions.
1. Maintenance Is Minimal
When we instruct buyers of the mini-PITCH on how to maintain it, it sounds something like this:
"Wipe it down and keep it clean it can stay cool."
That's about it.
This new actuator system is fully devoid of any other routine upkeep. Owners of smaller wind energy operations don't need to worry about having trained people on hand to handle maintenance. You're not even obligated to perform any card swaps.
In unlikely event of failure, modules are entirely replaced, quickly and easily, to minimize downtime and maximize availability.
Not that we expect that to happen much. We predict a 20-year maintenance-free design life with mini-PITCH.
2. Wind Speed
Below a certain point of wind speed, a stall-regulated system (an alternative to a pitch-regulated system) is not making you money. Windurance products can catch power at a lower wind speed, boosting the efficiency of your operation.
What's more, pitch-regulated systems can have a constant power output above the rated wind speed, while stall-regulated systems can't keep a constant power output in high winds. Pitch systems can do this because the blade pitch is variable.
With a broader range of wind speeds available for power production, mini-PITCH can help tip the scales an otherwise uneconomical or marginal power production environment.
3. Monitoring Capabilities
The mini-PITCH features two processors for each axis of the wind turbine, one that communicates and one that drives each blade.
This digital pitch actuator can communicate a huge amount of real-time and historical data. This allows you to ask a whole lot of questions about performance. The answers you get allow for optimized turbine performance, plus fewer faults and downtime.
You can learn more about data collecting and reporting here.
4. Price
This newest model is much cheaper on a per-megawatt basis because of the streamlining we've done with the design and architecture. Decades of experience in embedded systems engineering have resulted in changes in both the shrinking of the technology and in improvements to the architecture for blade control.
This advanced pitch technology makes the turbine more expensive up-front, but you get far more energy production, quickly covering those initial expenses.
5. Size
As we mentioned, fully featured blade pitch technology can now fix into smaller turbines. For example, the typical output for turbines that use our original Servo Pitch System is 2.5mW. While the new mini-PITCH is configured for turbines with a 1.5mW output, it benefits from scalable control features that can easily be configured for operating and emergency power levels required for almost distributed wind application.
6. Better Motor Performance
This new pitch actuator uses an AC motor instead of a DC motor. More specifically, a permanent magnet brushless motor.
The switch in motor type allows for more flexibility with control reduced power losses throughout the pitch system. Efficient operation is achieved through regeneration, fit-for purpose components, and optimized module sizing for your operation.
Can Your Farm Benefit From Mini-PITCH?
So where does this technology potentially fit in with your wind energy needs?
It's generally for turbines rated at 1.5MW or less.

Advances in reliability mean it's not meant for a utility-scale park where trained techs would be necessary. It's specialized for distributed-wind operations on, say, a farm or other rural outpost.

This is meant to be a smart alternative for low-mW turbines. Other Windurance products are also configurable in the multi-MW range of utility-scale turbines.
Ahead of the Curve
The same great qualities of Windurance's legacy pitch technology — that's years ahead of competitors' products capability-wise — exist in the new mini-PITCH. Factor in the new innovations of the mini-PITCH, and it's clear you'll be far ahead of the curve in turbine efficiency.
Contact us if you'd like to talk about potential solutions for your rural wind turbine operation!